---
Our professional overview service from industry experts, offering you a free, no-obligation review of your cleaning and disinfection processes.
Would your compliance procedures benefit from a fresh pair of eyes? We understand how the development of disinfection and cleaning regimes tends to evolve organically – shaped by regulatory, supplier and staff changes. Ecolab Life Sciences offers a confidential review of your cleaning and disinfection processes. Our qualified Microbiologists and Quality Experts can provide an impartial, external perspective and offer a valuable opportunity to double check or get our professional overview service on your compliance procedures.
You'll get:
---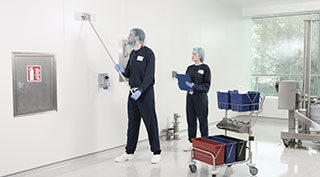 A thorough overview of current cleaning and disinfection procedures
A review of these procedures in relation to current best practice and safety of workers
Recommendations for cGMP and QA Improvements
An efficiency analysis of current products and processes used to identify opportunities for process optimisation and other cost savings
The identification of any potential "risk points" in current procedures, with recommendations for action
Following the process review, you will be provided with a detailed report. The report recommendations will help you to prioritise and focus on the process optimisation and cost saving opportunities available.